Posts for tag: braces
By Twelve Corners Orthodontics & Pediatric Dentistry
November 16, 2018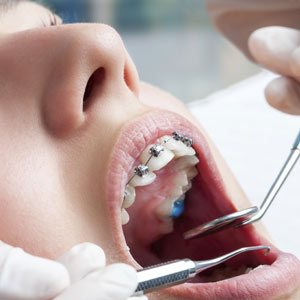 When designing your new smile, we have a lot of options for changing how individual teeth look: from whitening discolored teeth to replacing missing teeth with life-like dental implants. But the problem may not be how your teeth look — in fact, individually they may look perfect. If they're not straight, though, your smile won't be as attractive as it could be.
We can address a poor bite (malocclusion) through the dental specialty of orthodontics. By moving misaligned teeth we may be able to transform your smile without any other dental work, or it could serve as a more solid foundation for other cosmetic enhancements. To find out if orthodontics can make a difference for you, you should begin with an initial visit to your general dentist. A thorough dental examination will enable them to tell you if correcting your bite could be a good option for you. If it is, they'll most likely refer you to an orthodontist, a specialist in treating malocclusions.
The orthodontist will also perform an evaluation and get as complete a picture as possible of your particular bite problems. This examination will also include checking jaw growth and development in younger patients, how the affected teeth align with other teeth, and if your current bite is having any effect on the jaw joints. This will provide a good overview of not only the malocclusion but how it affects the rest of your mouth.
With this detailed analysis, they can then advise you on the best course of treatment. Most malocclusions can be corrected with braces or, increasingly, clear aligner trays. In certain situations, though, more specialized approaches may be needed, such as isolating only certain teeth for movement.
While orthodontic treatment takes time and can be expensive, the end result can be amazing: an improved bite that not only enhances your appearance but improves function and long-term health. Along with other cosmetic enhancements to your teeth and gums, orthodontics can give you a new sense of confidence in your smile.
If you would like more information on improving your smile with orthodontic treatment, please contact us or schedule an appointment for a consultation. You can also learn more about this topic by reading the Dear Doctor magazine article "The Magic of Orthodontics."
By Twelve Corners Pediatric Dentistry
December 14, 2017
Are your misaligned teeth cause for you to feel self-conscious? Do you wish your smile was straighter and your bite was better aligned? If
so, you could benefit from orthodontic care. However, understanding this procedure and what it entails is crucial in making a decision on whether or not it is right for you. Find out more about straightening your smile with orthodontic care with Dr. Abrahim Caroci at Twelve Corners Pediatric Dentistry in Rochester, NY and serving Pittsford and Brighton, NY.
Can orthodontic care help my smile?
A good candidate for orthodontic care wishes to straighten their smile or correct their bite issues and has realistic expectations for their results. Dentists recommend braces for teens over 12 and adults. In some cases, orthodontic care may begin earlier than 12, but this varies from patient to patient. Someone with braces should have a strong at-home oral care routine to keep teeth decay and gum disease away, ensuring that their treatment moves forward as planned.
Types of Braces
When most people envision braces, they probably see traditional metal braces. This style of orthodontic care involves metal brackets permanently attached to the teeth which hold metal wires in place. While this style is not the least obvious form of orthodontic care, it is effective and often more affordable. However, many orthodontists also offer clear braces, which resemble traditional braces but are made from tooth-colored ceramic instead of metal. These blend in better with your natural smile and are less noticeable than traditional metal braces. Lingual braces attach to the back side of the teeth and are completely hidden from view. Removable clear aligner tray systems can also straighten the teeth. Patients wear the trays one after another and slowly move their teeth into position.
Orthodontic Care in Rochester, Pittsford and Brighton, NY
If you think you could benefit from orthodontic care, a consultation with your dentist can help take this idea and turn it into a reality, determining for certain that this is the best treatment for your teeth. For more information on orthodontic care, please contact Dr. Abrahim Caroci at Twelve Corners Pediatric Dentistry in Rochester, NY and serving Pittsford and Brighton, NY. Call (585) 244-1177 to schedule your appointment for a consultation with Dr. Caroci today!
By Twelve Corners Pediatric Dentistry
July 20, 2017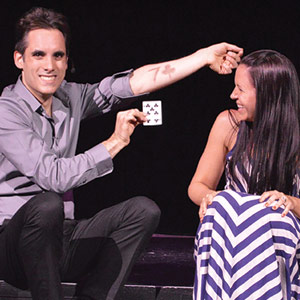 Magician Michael Grandinetti mystifies and astonishes audiences with his sleight of hand and mastery of illusion. But when he initially steps onto the stage, it's his smile that grabs the attention. "The first thing… that an audience notices is your smile; it's what really connects you as a person to them," Michael told an interviewer.
He attributes his audience-pleasing smile to several years of orthodontic treatment as a teenager to straighten misaligned teeth, plus a lifetime of good oral care. "I'm so thankful that I did it," he said about wearing orthodontic braces. "It was so beneficial. And… looking at the path I've chosen, it was life-changing."
Orthodontics — the dental subspecialty focused on treating malocclusions (literally "bad bites") — can indeed make life-changing improvements. Properly positioned teeth are integral to the aesthetics of any smile, and a smile that's pleasing to look at boosts confidence and self-esteem and makes a terrific first impression. Studies have even linked having an attractive smile with greater professional success.
There can also be functional benefits such as improved biting/chewing and speech, and reduced strain on jaw muscles and joints. Additionally, well-aligned teeth are easier to clean and less likely to trap food particles that can lead to decay.
The Science Behind the Magic
There are more options than ever for correcting bites, but all capitalize on the fact that teeth are suspended in individual jawbone sockets by elastic periodontal ligaments that enable them to move. Orthodontic appliances (commonly called braces or clear aligners) place light, controlled forces on teeth in a calculated fashion to move them into their new desired alignment.
The "gold standard" in orthodontic treatment remains the orthodontic band for posterior (back) teeth and the bonded bracket for front teeth. Thin, flexible wires threaded through the brackets create the light forces needed for repositioning. Traditionally the brackets have been made of metal, but for those concerned about the aesthetics, they can also be made out of a clear material. Lingual braces, which are bonded to the back of teeth instead of the front, are another less visible option. The most discrete appliance is the removable clear aligner, which consists of a progression of custom-made clear trays that reposition teeth incrementally.
How's that for a disappearing act?!
If you would like more information about orthodontic treatment please contact us or schedule an appointment for a consultation. You can also learn more about the subject by reading the Dear Doctor magazine article "The Magic of Orthodontics."