Posts for category: Uncategorized
By Twelve Corners Orthodontics & Pediatric Dentistry
September 27, 2018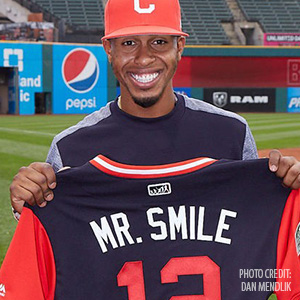 At the first-ever Players Weekend in August 2017, Major League Baseball players wore jerseys with their nicknames on the back. One player — Cleveland Indians shortstop, Francisco Lindor — picked the perfect moniker to express his cheerful, fun-loving nature: "Mr. Smile." And Lindor gave fans plenty to smile about when he belted a 2-run homer into the stands while wearing his new jersey!
Lindor has explained that he believes smiling is an important part of connecting with fans and teammates alike: "I've never been a fan of the guy that makes a great play and then acts like he's done it 10,000 times — smile, man! We've got to enjoy the game."
We think Lindor is right: Smiling is a great way to generate good will. And it feels great too… as long as you have a smile that's healthy, and that looks as good as you want it to. But what if you don't? Here are some things we can do at the dental office to help you enjoy smiling again:
Routine Professional Cleanings & Exams. This is a great place to start on the road toward a healthy, beautiful smile. Even if you are conscientious about brushing and flossing at home, you won't be able to remove all of the disease-causing dental plaque that can hide beneath the gum line, especially if it has hardened into tartar, but we can do it easily in the office. Then, after a thorough dental exam, we can identify any problems that may be affecting your ability to smile freely, such as tooth decay, gum disease, or cosmetic dental issues.
Cosmetic Dental Treatments. If your oral health is good but your smile is not as bright as you'd like it to be, we can discuss a number of cosmetic dental treatments that can help. These range from conservative procedures such as professional teeth whitening and bonding to more dramatic procedures like porcelain veneers or crowns.
Tooth Replacement. Many people hide their smiles because they are embarrassed by a gap from a missing tooth. That's a shame, because there are several excellent tooth-replacement options in a variety of price ranges. These include partial and full dentures, bridgework, and dental implants. So don't let a missing tooth stop you from being Mr. (or Ms.) Smile!
If you'd like more information about oral health or cosmetic dentistry, please contact us or schedule an appointment for a consultation. You can also learn more by reading the Dear Doctor magazine articles "Beautiful Smiles by Design" and "The Impact of a Smile Makeover."
Association of University Centers on Disabilities (AUCD) Trainee Profiles:
Abrahim Caroci, DMD, MS, Pediatric Dentistry Trainee, University of Rochester LEND (2016)
Abrahim Caroci, DMD, MS, known by his friends as "Abra," is a LEND trainee in Pediatric Dentistry at the University of Rochester LEND program. He grew up in Brazil where he completed his master's degree at University de Sao Paulo before moving to Arizona where he was a research scholar studying tropical diseases transmitted by mosquitoes. After that he pursued his true passion, pediatric dentistry. He graduated from ATSU-Arizona School of Dentistry & Oral Health, where he also completed a Certificate in Public Health with Dental Emphasis. Abra is currently completing Pediatric Dentistry Residency at University of Rochester-Eastman Institute for Oral Health.
Abra has held longstanding interests in meeting the needs of underserved populations. While volunteering with Special Smiles, a program that provides comprehensive oral health care information including offering free dental screenings and instructions on correct brushing and flossing techniques to participating Special Olympics athletes, Abra began to understand that individuals with intellectual and developmental disabilities (IDD) are one of the most underserved populations in regards to oral health, often times due to professionals' lack of exposure to this population and a lack of training during dental school. Abra's experience with Special Smiles facilitated his appreciation for working with an interdisciplinary team which led him to discover his local UCEDD and to ultimately pursue training with LEND.
Abra believes what sets the Rochester LEND program apart is a culture of philanthropy and volunteerism. Program faculty are involved with local organizations caring for people with IDD and are able to translate the LEND academic content to practical applications while working with local organizations. The Rochester LEND features 18 different trainees in disciplines such as pediatric dentistry, pediatric medicine, psychiatry, psychology, occupational therapy, physical therapy, speech-language pathology, audiology, social work, self-advocates, and employment specialists. The Rochester LEND program is designed to push trainees into less familiar areas that influence individuals with IDD, which is how Abra came to understand the issues around employment for people with IDD.
One of Abra's most enjoyable training experiences was the family mentorship experience. Spending time with a family with IDD helped him recognize the challenges families face when navigating complex medical and school systems and advocating for services. Abra's current research is focused on clinical transitions from pediatric to adult settings and how individuals with IDD are accessing services in their switch to adult care. Working with an interdisciplinary research team, Abra and others are in the process of developing strategies to improve access to clinical services for individuals in the transition process. Abra also has a strong interest in connecting with all pediatric dentistry providers in the state and creating an accessible list for families with children and youth with special health care needs.
LEND has shaped Abra's practice by teaching him how oral health can be influenced by other professionals and that his practice can be improved through interprofessional collaboration. He also recognizes that a team approach such as working with occupational therapists and other providers can help improve the patient and family experience. Once Abra has completed his LEND training, he intends to divide his time between private pediatric dentistry practice and local organizations and universities serving people with IDD.
Source: AUCD https://www.aucd.org/template/page.cfm?id=970